Our Mission
To provide highly accurate and affordable print to braille transcription for any document or book, to any braille reader, at any reading level.
Hope Braille, LLC History
Hope Braille was started in 2006 as Amy moved from the position of school transcriber into the private sector so that she could stay home with her son. It has been a family owned business ever since then, with Robert joining her in the business in 2012. Since then Hope Braille was incorporated as an LLC at the beginning of 2020, to better position it as a company within it's industry. Hope Braille strives to increase the quality standards of Braille available as well as the level of Literacy within the Blind and Visually Impaired communities. We have worked diligently, using a sound knowledge of Braille codes and technology, to create the most efficient process possible in the transcription of print materials to Braille. This saves time and therefore lowers the cost of Braille. We have enjoyed great success with offering Not To Exceed Quotes to ensure that clients will not go over budget, along with a very high rate of accuracy. We are so proud of our rate of accuracy, we even post in on our home page!
Amy Furman
As a third generation transcriber, Amy Furman grew up in the braille industry, going to industry conferences with her mother. She began her own career in braille even before certification as a school transcriber in Nevada, starting her certification courses at the age of 19. Taking her time to truly learn the code, she was certified by the Library of Congress in EBAE Literary Braille at the early age of 21 years old. She remained a school transcriber for another few years before moving to the private sector by opening Shaman Braille (now Hope Braille, LLC). She continued her education in braille and received her EBAE Literary Proofreading certification from the Library of Congress in 2012.
Since then, the braille industry in the United States has changed to a new code, Unified English Braille (UEB). When the US first started talking about changing to UEB, Amy learned the new code and received her RIDBC UEBOnline certifications (Module 1 and 2) in 2015, before the official changeover date for UEB in the US. She has since then received her UEB Certification with CNIB in 2018, as well as her Library of Congress UEB update letter for her Literary and Literary Proofreading certifications, completing UEB certifications in three different countries.
She has always been a teacher in braille, and for over 15 years she has worked consistently to both increase her knowledge in braille and encourage accuracy within the braille community. She has become a specialist in higher level math and sciences for colleges and agencies around the world. She has very passionately spent time updating transcribers on Braille 2000 tips and techniques as well as the UEB code by teaching at conferences or online seminars, participating in braille related Facebook groups, as the UEB Specialist for CTEBVI (California Teachers and Educators of the Blind and Visually Impaired), and as the Vice Chair for the UEB Literary Committee for NBA (National Braille Association).
Robert Furman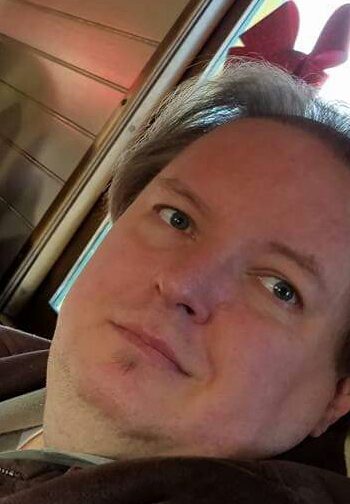 Robert Furman grew up with a strong interest in art. While in high school he found that he had a love for commercial art or "the graphic arts." He left his local college to pursue a business in Graphic Arts after finding that the school only had traditional art programs at the time. As a graphic artist he performed work for companies like Hilton Hotels, Chuck E. Cheese's, and the Big West Football Conference. He has used his creative interests to create logos and graphics for numerous industries, such as local bands, business card and identity packages, personal portraits, vehicle graphics and more.
In 2012, after the economical downturn of 2008 and it's long-lasting effects, he came home to work as a tactile illustrator in the braille industry with his wife, Amy. It has offered it's own unique challenges and puzzles to figure out. After starting with Microsoft Word, as it was already readily available and accepted within the industry, he delved deeply into how to use all of the drawing tools the program had to offer. Having a personal education in higher level math and sciences, like his wife Amy, he quickly jumped into creating tactile illustrations for Chemistry, Biology, Calculus, and Anatomy textbooks.
Years later, he has graduated to Corel Draw as a base program. He has spent countless hours testing processes and illustration techniques on his Tiger embosser to develop a high level of standards for clarity and comprehension of some of the more complex illustrations a braille reader could find in their education. He has developed his own templates, found numerous tips and tricks with the programs he uses, and has amassed a large collection of complex illustrations within the higher level math and science texts that can be quickly adjusted for new texts covering similar subjects.